Hylife 34, SPECIAL CD & T-SHIRT Offer, Reflections, & Izzy Pic From The Road…
Shalomey Homey…
What's going down all my folks from around the world????!!??!!
I hope all is good for you and your peoples during this season of giving, reflection, new resolutions, and change.
I wanted to let you know that life is good here. The album "Sex In The Morning" is going over quite well, and I am honored to know that the sounds of "Sex In The Morning" are being heard around the world.
So many thanks to the folks emailing me about the CD and what songs they like, their insights into the numerology within the album, and just general love you have given me about the music. For real, thank you! Keep it coming!
I make my music for you! This is my offering to you and the world at large. With that said, please consider giving the gift of "Sex In The Morning' (rated PG) during this holiday season. This album is a collection of songs reflecting on a theme of the sensual in modern life. My previous albums: "HYIM and The Fat Foakland Orchestra" and "Let Out A Little Peace" are also available .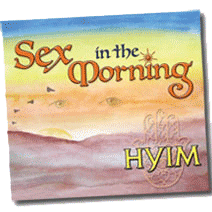 Please consider these options to get a CD as a gift:
http://www.hyimvibe.com, http://www.itunes.com/hyim (digital only) http://www.amazon.com, www.cdbaby.com/hyim
SPECIAL (good until December 18):
(((ANY 2 CDS AND A T-SHIRT FOR $25 (includes shipping).)))
FOR SPECIAL OFFER, EMAIL: leahhaifa@gmail.com
The "Make Love, Not War" t-shirts designed by Oakland's very own OAKLANISH using American Apparel shirts are also great for gifts (HYIM image on back & Oaklandish image on arm). Only about 18 shirts left. We have adult sizes available in green (yellow script), black (red script) and tan (black script). Check http://www.hyimvibe.com to see the shirts. Thank you to all the folks who have been spreading the love with the shirts already!
Thank you, thank you, thank you for supporting live music and art. Please continue to support grassroots musicians and artists. You sustain us. Without you I would not be doing what I am doing.
I am looking forward to new journeys in 2010! A new album of ballads (finally), plans for more film scores, and more collaborations are all manifesting. Salud!
2009 was amazing. Big love to DJ Shablotski (aka BB) for helping make "Sex In The Morning" come to life. That was by far the most (hour for hour) fun and arduous project my studio has seen. The near capacity Record Release Event at Yoshi's in SF was epic and a night I will never forget. Videos from the Event are soon to come. Big props to LY for all your effort, patience, and diligence, you rock! This year has seen some profound changes and some more miles on the road, most recently through the snow (see pic below of Izzy). Lastly, I'm glad to have my Masters Degree. I am grateful for this year in my life.
The fashionable Izzy, from the song D.O.G., prefers to stay in the tour bus.
So, my shalomey homey, I look forward to seeing you sometime this coming year. Come out to a show and say "hello" or shoot me an email and give a "what's up bro?" hyim@hyimvibe.com . I like it when you do.Take good care of yourself and those ya love this winter. For our children and their children yet to come…
Big love, peace, shalom, asaalam, namaste, sayonara, adios, ciao, paalam, bye bye.
1 luv,
hy
December, 2009
————————————-
http://www.hyimvibe.com
http://www.myspace.com/hyim
http://www.facebook.com/Hyim1
http://twitter.com/HYIMvibe
Available on iTunes: http://www.iTunes.com/hyim
*A talent worthy of the designation of world musician.
–Village Voice Media, NYC
*Hyim is a formidable talent…spellbinding.
–San Francisco Chronicle
*California Music Awards Nominee
*Yamaha Artist
*KFOG Local Scene Artist
*Pretty as hell, thoroughly uplifting.
–East Bay Express
*Hyim's music holds a rare gravity, & it is clear that he possesses a grand vision.
–Relix Magazine
*This multi-talented singer-songwriter is a natural: original, honest, timeless.
–Owl Magazine
Please contact Linda Yelnick, manager, for info & booking: leahhaifa@gmail.com
(650) 692-1763
http://www.hyimvibe.com
http://www.myspace.com/hyim