((HYLIFE OCT 2012)) NEW SONG, NEW VIDEO, NEW WEBSITE, NEW SHOW
WHAT'S GOING DOWN ALL MY GOOD PEOPLE AROUND THE WORLD?!?!?!?!?!
It has been a loooong time!!!  I hope this note finds you in good spirits.
I have been busy in the studio recording, producing, as well as working on a new show, and I will be releasing a new self-produced song, "Ten Thousand Words," in 3 VERSIONS:
1st Version of the song:  "Radio Edit" is the lead single with a (((video))) featuring model/actress/friend Marilinda Rivera.  Here is a description of the song: 
'With HYIM at the helm composing, performing and producing all elements of the song, you feel the joyous and catchy melody and his signature sultry piano flowing over the head-bobbing hip-hop beats. "I have books full, of poetry for you inside my heart…ten thousands of words, millions of letters perhaps…ahhh, I've lost count now." The song reflects the infinite quality of love…as if love were constantly moving through us to be shared in a stream of words.'
2nd Version "Acoustic" is a sweet intimate version of the track.
3rd Version  "Dubfire Remix" is a groove driven abstract artistic interpretation of the "Radio Edit" version.
ALL THREE SONGS WILL BE AVAILABLE THROUGH DIGITAL DOWNLOAD ONLY!!! STAY TUNED!
———————————————————————————————————
Please have a look at my NEW REVISED WEBSITE!!!  http://www.hyimvibe.com
Lastly, please join me on FACEBOOK & TWITTER:  
 http://www.facebook.com/HYIM.MUSIC  http://twitter.com/HYIMvibe
Otherwise, things are good for me as I continue producing albums, working on my album "Love Songs in Times of War 1" for a 2013 release, practicing, meeting lots of good people, chilling in California, while I continue my peace work with the youth as well as developing curriculum for peace education.  I continue anger management with teenagers as well as designing peace workshops for community programs.  Additionally, my time is spent going into juvenile halls, performing and teaching about music–what harmony is all about.  
I wish you all the best wherever you may be.
Go where the love is…   
Paz, shalom, pace, a'salaam, namaste, peace.
HYIM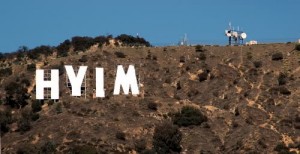 HYLIFE: OCTOBER, 2012
FAMILY PRODUCTIONS LABEL